I remember drafting the original plan for Rapha Community Center. I was a sophomore at Wagner College in New York City. I had just returned from my first volunteer trip to Kenya, inspired and filled with a vision of creating a children's home in Africa.
At the core of this vision, there was a home for orphans and vulnerable children. Beyond the quality care that every child would receive, I wanted to create opportunities for children to discover their talents and gifts. At Rapha Community Center, we have singers, dancers, writers and actors. We have students who excel in the classroom and students who excel on the athletic fields. I could go on…our children are beyond talented! Perhaps it sounds like I'm bragging, but can you blame me? I'm a proud mom after all!
Never could I have imagined we would have so many incredible artists in our community too. Before we held our first How to Draw a Lion art class in 2017, our children had very little experience with art beyond basic drawing and coloring. Over the past few years, John Platt, NYC-based artist, founder of the How to Draw a Lion arts education program and principal teacher, has opened up the world of art to our students. In doing so, our children have created stunning masterpieces that have raised over $15,000 for our community.
During my recent trip to Kenya, I was able to witness the art class firsthand. It was wonderful to see the talent of our students come to life through their paintings. This year we had one of our very own alumni teach in John's place. Samuel Kinuya discovered his gift for art during the first class with John. After graduating from Rapha Secondary School, Samuel moved to Nairobi to pursue his art career. Not only has he started his own business drawing portraits and painting murals, he is now working as a teacher for How to Draw a Lion. His story, the success he is achieving and his commitment to sharing his talent with others is proof that the community we have created in Kenya is changing lives, just as I first envisioned.
It's incredible to watch the plan I wrote 13 years ago come to life. Thank you for being part of the journey!
With gratitude,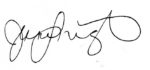 Jennifer Musick Wright
Executive Director & Founder